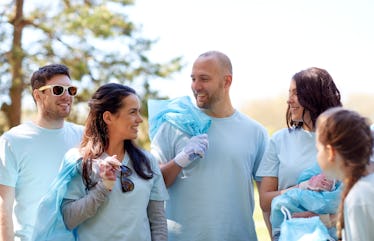 7 Heartwarming Ways To Give Back This Holiday Season & Make A Difference
The holidays can sometimes get a bad rap for being solely about receiving gifts. Ultimately, it's a cheerful time that opens people up to the act of giving, but not with the expectation of getting something in return. It's important to explore ways to give back this holiday season, because there are people out there who don't have it as good as you do.
By volunteering for an incredible cause, you will be making someone's day more than you'll ever know — and you certainly cannot put a price tag on that. Many of us may not even realize how much we take for granted every single day, and the holidays are a necessity to bring us back to reality and away from the semi-selfish jumble some people get caught up in. Giving back during the holidays is a humbling experience and keeps you grounded.
We can't cure every injustice in the world, but if everyone did a small part to make something better, those combined pieces would create a massive mural of gratitude. Seriously though, if you have time to spare, the holidays are an amazing opportunity for you to give back to your community and help out people who could really use it.