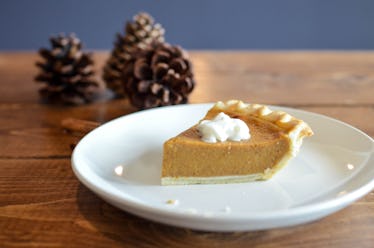 7 Vegan Pumpkin Pie Recipes For A Friendsgiving Your Home Slices Will Love
Pumpkin pie is a must for any Thanksgiving dinner. It just doesn't feel right without it. You need that sweet treat to end the most epic feast of the year. And pumpkin is the mascot of the season. You see it everywhere in your lattes, bread, pancakes, and beer. Which is why you must have pumpkin pie at whatever friendsgiving you attend. Everyone has different diets, so in order to make sure most of your friends can get a slice of pie, you should try out some vegan pumpkin pie recipes.
Feast your eyes on these seven vegan pumpkin pie recipes that you need to try. When you're eliminating some ingredients like dairy you have to get totally creative with what you use, but the outcome is always something magical. As long as there is pumpkin in it, I am happy. Some of these recipes are also gluten-free so you don't have to stress yourself out making a pie you're not sure everyone can enjoy. Pretty much your entire squad can have a slice of these vegan pumpkin pies. Try one or you know what I wouldn't be opposed to trying out all these recipes. You guys can have a pumpkin pie themed friendsgiving — a pie for everyone. That sounds magical, because after all I only have pies for you pumpkin pie.