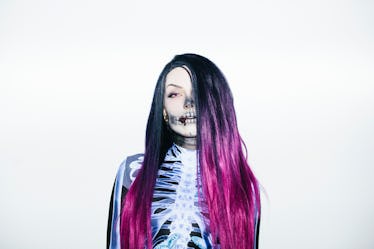 7 Unique Halloween Costume Ideas If You Want The Spotlight To Be On You
Raise your hand if you've spent way too much time thinking about and planning your Halloween costume. Ahem – don't lie, all of your hands should be raised. Whether you started planning weeks ago, or you haven't started (and now find yourself on the worst kind of deadline), planning your Halloween costume can be stressful AF. You never know quite what to be, or how it'll be received by friends and family. Do you want to be funny, or smart? Cute or scary? All of the above? What does that even look like? Let me tell ya: it's not easy. It's especially not easy to find a costume that's special; unique Halloween costumes for 2017 are difficult.
The first question you usually ask yourself is: What hasn't been done? I'll answer that for you: Everything you can think of probably has been done, so it's best to drop that expectation now. Halloween, incidentally, becomes a lot more fun then, too. Then, you move onto figuring out what's recognizable, but not so popular that everyone else is doing. Inevitably, you end up in a pile of clothes and old costumes wondering if you should just cancel your entire Halloween.
Bu there's none of that happening for you now. Instead, I've made it really, really easy for you: here are seven Halloween costumes so unique that everyone can't help but stare. Don't get shy now!