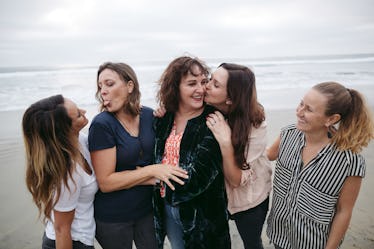 7 Traditions To Start With Your Family That'll Trump The Miles Between You
If you have an incredible bond with your family, they're the most important people in the world to you. They have been a consistent support system throughout your life, and you love them endlessly. Although, it can be difficult keeping in touch with them on the daily when everyone's scattered throughout the country. I totally get it — you wanted to follow your dreams and move away from the nest. You see them over holidays, and even plan mini getaways in between, but there are some traditions to start with your family right now that'll trump the miles between you.
Traditions may have been a staple with your family since day one. From baking cookies around the holidays, to going on an annual summer road trip, you look forward to and cherish these traditions. I don't know about you, but traditions are probably the reason I'm able to stay so positive on the regular, because I always get excited for the next one to come.
Knowing that you always have these seven traditions to look forward to in the future will definitely keep your family connected while you're apart. Your physical distance may be far, but the bond you have is tighter than ever.