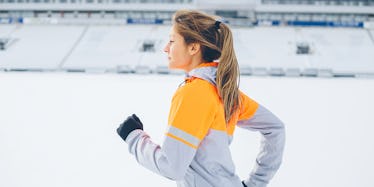 7 Tips For Running In The Cold, If You're Brave Enough To Venture Outside
If you have a friend who's obsessed with running, you know there's basically no weather condition too severe to keep her from lacing up her sneakers and pounding that pavement. If you are that friend, you've probably endured your fair share of frozen toes, aching earlobes, and slippery surfaces in the name of running. Whether you're a diehard runner or not, a season filled with snow is currently upon us, and when you're trying to keep up with your cardio, indoor machines get real boring, real fast. That's why it's crucial to have some tips for running in the cold hidden up your heavily-layered sleeves when it comes time to go for a jog in less than ideal weather conditions.
Let's be real: Running is hard enough even when the temperatures are practically perfect, but when winter rolls around, the simplest of cardio sessions can become challenging AF. But that doesn't necessarily mean you have to stay indoors all season and be a slave to the "dreadmill."
The next time the forecast is looking frigid, and you work up the courage to run outdoors, here are seven tips to keep you comfortable and safe as you take on the icy tundra head-on — or, feet-on, I guess.