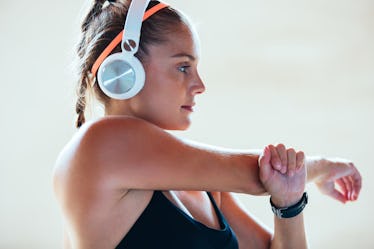 Fitness Experts Reveal 7 Easy Ways To Get More Out Of Your Next Cycling Class
I don't know about you, but if I'm spending money on a workout class, I want to get the most out of it as humanly possible. The thing is, I can work out (ahem, for free) in the comfort of my own home, whenever and however I want to. I love workout classes like cycling for the atmosphere and to get that extra oomph in my routine, but whenever I leave feeling unchallenged, it all seems like a waste of time, not to mention money. Thankfully, a few experts have shared some of their best tips for cycling classes to help you make sure you're always getting the most out of this workout.
From proper attire to the right warmup stretches, these experts know what it takes to have a rewarding sweat sesh each and every time — one that, time and again, will make you want to keep returning to your bike and challenging yourself in new ways. Because, let's be real: Making the most of your cycling class isn't as easy just listening to and doing everything the instructor tells you. Sometimes you walk into a cycling class and you're just not feeling it that day — which is totally fine. But it doesn't mean the entire experience has to be a waste.
Here are seven ways to get more out of your next cycling class, as told by the experts.