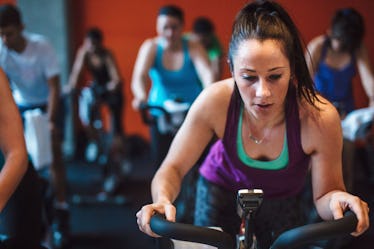 A Cycling Instructor Reveals Exactly What You Need To Know Before Your First Class
So, you're about to hit up your first cycling class. If I had to guess, you're probably feeling nervous, excited, and perhaps low-key intimidated by all of the seasoned "regulars" you're anticipating to see with you in the studio. Basically, you're feeling all the feels, but you're ready to slay the challenging and sweaty workout nonetheless. If that's the case, there are a few things to know before your first cycling class that'll give you a little reassurance before your debut ride. Thankfully, Sara Davis, CycleStar at CycleBar in Buckhead, Georgia, has got you covered, girl. This instructor is a wealth of knowledge when it comes to all things cycling, and she's got the best advice for both newbies and seasoned cyclers alike.
Look, the reality is, when you walk into your first cycling class, there's often a level of fear and intimidation that sets in. You probably don't quite know what to expect, and you might be afraid you'll totally screw up and embarrass yourself in front of a crowd of "pros." And while cycling classes can sometimes seem overwhelming for first-timers (I've been there, I know), Davis says there's nothing at all to be intimidated by when you step into a cycling studio. At her studio, at least, she says it's an extremely welcoming environment for people of all levels. Plus, she adds, no matter where you're going for your first class, it's standard protocol for the instructors to always make you feel welcome, safe, and ultimately, your absolute best atop the bike.
Below, Davis shares the five things your cycle instructor wishes you knew before walking into a studio, and TBH, her advice is gold.