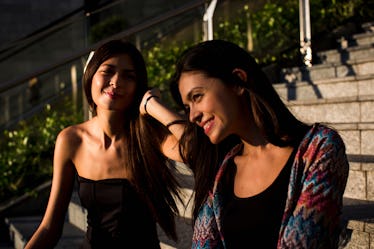 7 Times Your Sis Knows What You're Thinking, Because That's Just How Close You Are
If you have a sister, you know that she's one of the most important humans in your life. Not only does she play a huge role in your family and your daily life, but she also has played one of the most important roles in shaping you into the person you are today. And anyone with a sister knows, that bond can cause some wild connections, like when your sister knows what you're thinking without you having to say a thing.
Being a sister is something only some of us are blessed enough to experience. We get the joys (and the annoyance), and quite honestly, what would life be like if we didn't have our sister? It's a friendship so close that every other friendship pales in comparison. You know that as much as you love your other friends, they'll never understand you as well as she does. In fact, telepathic-like abilities between sisters are a given. You already know pretty much everything about each other that a little telepathy here and there is easy.
Chances are, if you have a sister, you've read each other's minds countless times. At this point, you probably don't even notice when you're doing it. The next time you're with your sis, check it out for yourself. These seven times probably come naturally to you.