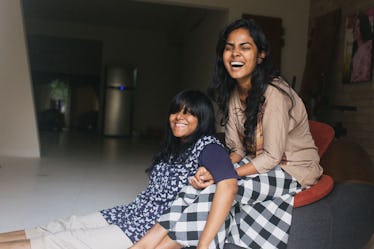 7 Times You Need Your Sister In Your 20s & Are So Proud To Admit It
It's almost impossible to count the amount of times your sister has been there for you since you were kids. That's because she's always been either right down the hallway or a simple phone call away. She's your BFF, partner in crime, and most trusted confidant. You honestly don't know what you'd do without her. She's invaluable, and there are times you need your sister in your 20s even more so than ever, and you're honestly proud to admit it.
Out of all the text chains in your phone, the one with your sister is probably the most active. You're constantly sending her funny Gifs and links to cute videos. Whenever you have something to vent about or good news to share, your sis is the first person to hear about it.
Now that you're in your 20s, you may not live as close as you did when you had bedrooms that were right next to each other. However, even though you may be miles apart, the distance hasn't affected your relationship one bit. You know you can still count on your sis to be there whenever you need her. Nothing — not even your 20s — can try to stop your sister from being the PB to your J.