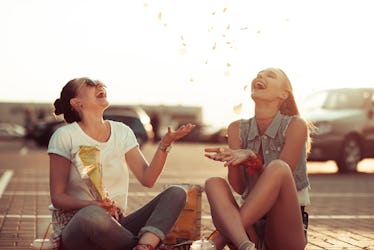 7 Best Friend Dates That Are, Well, Truly The Best Of All Time
ShutterStock
Finding a best friend is basically like finding your soulmate. The title doesn't go to just anyone; they have to be the forever type. You've gone through the years making memories and having fun. Sometimes, you don't even remember every little detail of the funny moments you shared together, but they still make you laugh to this day. You could either go on epic adventures around the globe or hang at home on a Friday night, and it's the timeless things to do with your best friend you'll never tire of.
You know exactly what I'm talking about; these are the BFF activities you've been doing since the beginning and will continue enjoy doing together forever. There's no limit to the number of times you guys can do these seven things together.
If you ever have a free Friday or Saturday night with nothing planned on the calendar, your best friend will likely say yes in a heartbeat to doing any of these things. So, what are you waiting for? It may have been difficult AF to find your person who truly gets you, so celebrate finding the PB to your J by having some much-needed BFF time as soon as possible.