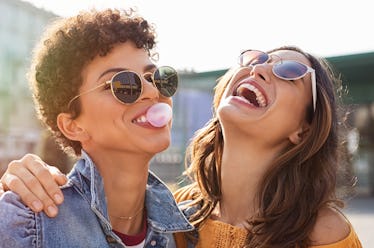 If You & Your Best Friend Can Laugh About These 10 Things, You're Besties For Life
Shutterstock
A true best friend is priceless. They're there when you need someone to vent to, are down for spontaneous adventures, and take the title of your biggest cheerleader. Your bestie can make your day so much better just by being there, and a lot of that has to do with the fact that they make you laugh uncontrollably. From your inside jokes, embarrassing moments, to fun-filled memories, there are many things you can laugh about with your best friend every day.
Sharing the same (or similar) sense of humor is important in any relationship. You want to be able to make each other smile with ease. Luckily, you and your best friend are practically like twins separated at birth. You share a secret BFF language that includes your shared sense of humor. What may be hilarious to you two sometimes has other people scratching their heads, and you really wouldn't want to any other way.
Just by looking at this list of 10 funny things, you'll be immediately reminded of every joke you share together and hilarious story that had you laughing so hard that you were crying. If anything, this list should inspire you have another BFF date ASAP so you can continue to create hilarious memories that'll have you smiling forever.