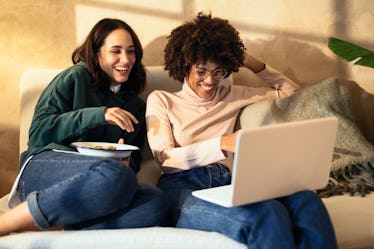 If Your Roomie Does These 7 Things, Literally Never Let Them Go
Sometimes, living with a roommate can be a struggle. Balancing two personalities — and maybe even two different lifestyles — can be a challenge, because you're blending them together in a brand new household. But if you feel like you've found "the one," there are a few things your roommate does that makes them the actual best, and you should absolutely never let them go.
The perfect roomie may take care of you when you're not feeling well, welcome you home with a glass of wine and a shoulder to cry on when you're having a stressful day, and keep it 100 with you, always. They make sure that your family likes them, and they're respectful of your space whenever you have company over. These might not be the easiest criteria to hit, but if you've found someone who checks all — if not most — of these boxes, you should live with them for as long as you possibly can.
You likely spend a lot of your free time in your apartment, so it's important for you to find a person who meshes well with you. Even if the two of you don't always get along, if you know how to give each other the space you need, you'll be able to create a beautiful home together.