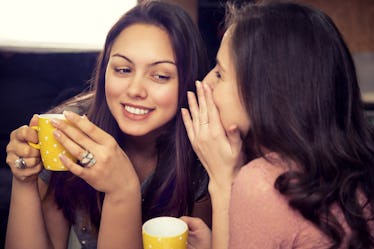 7 Things You Can Only Get Away With Saying To Your Sister
Have you ever said something so incredibly outlandish, stopped yourself in your tracks, and then realize you were talking to your sister, so you continued on with your rant? That's because our sisters are essentially the keys that unlock the good, the bad, the ugly, and the downright hilarious qualities in us all. We are real with them, no matter what. That's why there are things you can say to your sister and not feel judged one bit.
Emotions aren't supposed to be controlled, and because we have to seemingly regulate them around people other than our sister, it's crucial to vent. Our sisters can handle our seriousness and our dramatics, so saying just about anything without a filter attached is instinctual around her. No matter how vulgar or weird, she's there to listen, and you never feel like your venting has fallen on void ears.
Oh, sisters. What would we do without them? Sometimes, you just need to be heard without putting your words through a socially acceptable, cookie-cutter filter before you present them. That's not how real life works, to be honest. So, whether you do this religiously or only when you're bursting at the seams, your sister is the only person you can say a few of these things to.