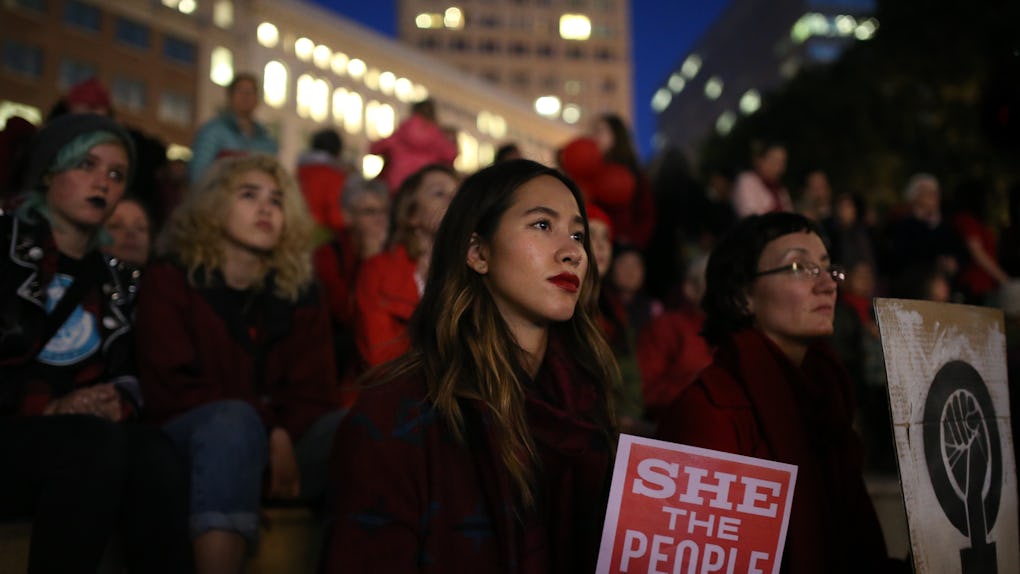 Elijah Nouvelage/Getty Images News/Getty Images
7 Things To Do On International Women's Day With Your Girl Crew
You celebrate girl power with your best girlfriends on the regular — but there's one day in particular that you should be celebrating a little differently. International Women's Day (IWD) is on March 8 — and it's the perfect day to spend time with your favorite females in your life. There are plenty of things to do on International Women's Day with your girlfriends that will further emphasize the immense amount of strength and empowerment that's created when women unite.
According to their website, International Women's Day made its debut back in the 1900s. It has riveted the participation of females and supporters across the globe ever since. Although March 8 is only one day out of the year, it is a crucial time to honor and recognize the achievements of women throughout the world — along with consistently pushing towards women's equality in all facets of life.
Regardless of your economic status, ethnicity, language, or political stance, "women" is a unifying word that symbolizes the mass amount of voices that are fighting for a more feminine-inclusive tomorrow. Many obstacles have been surpassed and milestones achieved — but the fight is hardly over. International Women's Day starts with the togetherness — and there's more than one way to promote that womanhood with your girls.
1. Volunteer At A Women's Shelter
Remember the umbrella of the term "women" touches people dealing with all paths of life. Helping women in need will not only be a bonding experience for you and your ladies, but it will reiterate that no woman is excluded from aid or support because of their economic situation. Having each other's back is so, so essential in this world.
2. Attend A Local IWD Event
The march is on all over the world. It shouldn't be difficult for you ladies to find a local event to attend and meet other women rallying behind the cause. The International Women's Day website even has a page dedicated to events going on across the globe, throughout the year.
These events will be filled with so much support and love, you might hug your favorite ladies a little bit extra, but who's counting?
3. Plan A Small Gift Swap
Whether it's a thoughtful, handmade card or a beautiful bouquet of flowers, swapping gifts with your girls will make each of you feel extra special. Celebrate your womanhood and give a gem to a gem. The smallest gesture can speak volumes — and giving a present to one of your favorite ladies will sincerely emphasize that.
4. Sign Up To Be Big Sisters
Let IWD mark the day you invest in the women of our future. Dedicating some bonding time to the young girls who are enrolled in the Big Brothers Big Sister program will be your chance to contribute to the feminine minds of tomorrow. These girls will grow up before the blink of an eye, and giving them a positive role model to look up to is so important.
5. Immerse Yourselves In A Different Culture
As much as unity is an underlying quality of IWD, it is the diversity of women that makes the movement so forceful. By taking time to experience a different culture through food, dance, art, or simply talking to someone, you are further promoting diversity. Our differences are not what divide us, they are what unite us.
6. Shop At Places Where The Proceeds Go To A Woman-Related Foundation
There are numerous foundations that work to progress the presence of women in much-needed areas, like politics. Finding a store or online deals that will directly help those organizations continue to promote the inclusiveness of women is the best shopping you will ever do. Every dollar spent is a dollar towards the movement.
7. Host A Movie Night Celebrating Women In Film
With the #MeToo uprising in Hollywood and the persistent fight to address the wage gap in the film industry, celebrating women in all assets of film is much-needed on the reg. This could be for actresses, directors, or anything where a woman greatly contributed to a film. This will be hands-down one of the most empowering movie nights you will ever have with your ladies.
The spirit of IWD should be carried with you all of the time. Social injustices and inequalities don't sleep or take a break, and neither should your efforts to counteract them.