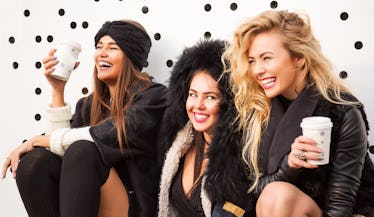 7 Fun Things To Do On Winter Weekends With Your Friends Without Getting Wasted
During the winter months, it's an easy plan to round up the squad and hit up a couple of your fave bars to cope with the cold (if you're of legal age), but there are also so many things to do in the winter without drinking with your friends. Oh, and "fun" would definitely still be a factor.
I get it. It's 5 o'clock somewhere. I'm no stranger to popping open a couple of bottles of wine with my friends, but I also know and appreciate those times when we simply enjoy each other's company without any booze. Besides, not everyone drinks, and it's a lot easier for everyone to not do it and come up with a fresh, unique plan. If you're fully indulging in something entertaining, you hardly even notice that alcohol isn't present.
Winter has a lot of down time. Whether you're snowed in or on break from college, those hours add up. Spending the time with your friends is golden, and there are more than a few non-alcoholic activities that'll get the party going. In fact, if you engage in any of these activities, the only cocktail you'll be sipping on is a glass of memories, a splash of laughs, and good company as the garnish.