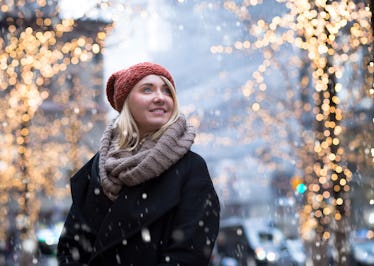 7 Fun Things To Do In New York At Christmas Time Besides See The Tree
Finding yourself in New York around Christmas time means you're just steps or a train ride away from some dope gems of the city. I'm not hating on the Rockefeller Center Christmas tree one bit (because that's surely a staple to see this time of year), but there's also so much more holiday fun to be had in the Big Apple. The jolly holiday unveils many things to do in New York at Christmas time, some of which wouldn't even feel right doing in any other city.
Call it being touristy if you want, but indulging in all of the festivities of the city is a must, especially if you're just visiting. It's amazing how fast the city transforms into a winter wonderland once those holiday months start rolling in. The whole ordeal can seem like you've sort of stepped into a different world or something.
Make sure you've got those walking shoes ready, because pedestrian-friendly doesn't even begin to describe the amount of steps you're going to rack up on your fit bit. It will all be worth it when you're knees-deep in unforgettable memories and experiences. Besides, you get so much more out of your trip to any new place if you're out in it, going place to place, instead of driving through. Take more than just a bite out of the Big Apple by heading to any of these places.