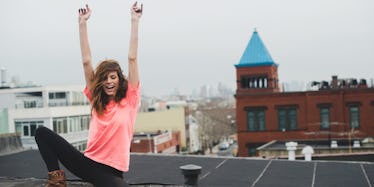 10 Badass Activities You Need To Try If You're In NYC Over The Holidays
Winter is right around the corner. For me, the beginning of winter usually means spending the following six months holed up in my apartment, watching Netflix.
However, for some of you more fortunate readers, winter means a vacation and the chance to travel the country (or the world) to experience all the great things life has to offer.
If you're traveling to NYC this winter, instead of doing all the typical tourist-y stuff like going to Rockefeller Center and getting frozen hot chocolate at Serendipity, try doing one of the badass things NYC has to offer.
Make memories while you're on vacation, and give your friends something to be jealous of.
Here are 10 of the most badass activities you can do on your trip to NYC:
1. Watch beatboxers throw down sick beats at (Le) Poisson Rouge.
There's probably nothing more badass than seven award-winning, world champion beatboxers performing in one room.
Once a month, The Beatbox House hosts a show at (Le) Poisson Rouge. Just last month, Time Out New York called it a must-see event.
At the last show, they had a special guest, Ben Mirin, who combined beatboxing and animal sounds.
That's pretty much the nerdiest, coolest thing I've ever heard. And it's only $10 to get in.
2. Drink whiskey and drop knowledge like a boss.
Whiskey is the badass drink of choice this season. But do you know how to order it?
Do you know what makes a bourbon a bourbon, or when to order neat versus on the rocks?
If you want to drop (or gain) knowledge like a boss, I recommend attending a Whiskey Stories event, or checking out whiskey clubs like Women Who Whiskey and Whisky and Books.
3. Attend The Badass Bitches Tour at the Met.
Get cultured like a total badass. Museum Hack has done something I never thought was possible: It has made museums fun.
The Badass Bitches Tour isn't your typical tour with boring, blah facts about American art.
The BBT guide, Kate, uses stories to entertain and educate the crowd. Activities include selfie-taking and lots of vagina art.
4. Learn to pole dance.
Pole dancing is no longer just for people trying to make extra cash. It's a legitimate and intense form of fitness, and it's taking NYC by storm.
This is not to mention the fact that it's beautiful and empowering to watch women feel sexy in their skin.
Roz "The Diva" Mays is one of my favorite instructors because she teaches badass pole 101 classes. She teaches women (and men) to love their bodies and rock it like the damn divas they are.
5. Play laser tag and drink beer.
Barney Stinson was onto something: There's something inherently cool about laser tag. Add in some beer, and you have the greatest night ever.
Bowlmor Lanes at Chelsea Piers has laser tag happy hour on Wednesdays. That's $15 for all-you-can-play laser tag.
Suit up, get drunk and plan your best laser strategy.
6. Eat doughnuts because you don't give a shit.
If summer is for bikini bods, winter is for eating a doughnut (or two) a day because it's WINTER, you're in hibernation mode and you DON'T CARE.
I've heard from at least three credible sources that Peter Pan Donuts is the best place to have an eating adventure.
For other cool eats, check out Kenka down on St. Marks. You can have one-dollar beers while looking at slightly pornographic decor. End your meal by making your own cotton candy.
7. Learn how to scale buildings.
Come on. Spider-Man is sexy as hell... and so is Parkour.
Parkour is about finding the fastest and most efficient way to move through an environment. It involves learning to scale walls, jump over obstacles and tumble under barriers.
NY Parkour offers beginner's classes you should definitely try.
8. Get trippy with NYC theater madness.
Sleep No More is a staple of NYC weirdness.
It's an interactive theater experience based on Shakespeare's "Macbeth." Theatergoers can walk around at their own pace and discretion, but expect full nudity.
For something cheaper, you can check out Too Much Light Makes The Baby Go Blind. It's another interactive, badass theater experience (and in my opinion, one of the best in NYC).
This production features 30 two-minute plays. Some are weird, others are smart, and still others involve the cast throwing pennies at you.
9. Take improv classes.
It's hard to be silly and let loose. But it's so good for getting out of your head and shutting up your inner critic.
Improv is all about learning to not be perfect, and badasses are perfectly imperfect.
Everyone knows about The Pit and The Magnet, but check out the newest kid on the block: Improvolution.
10. Donate blood.
A friend of mine recently reminded me it was a blood transfusion that saved her life when she was 7.
Badasses save lives. Book an appointment with the Red Cross.
Whatever you decide to do on your trip to NYC this winter, take advantage of all the cool, weird and different things this city has to offer.
There's a reason people from all over the world come to visit. Get lost in your thoughts, be humbled and be exhilarated. But most importantly, be entertained.