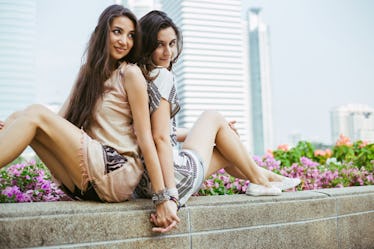 7 Things All Sisters Should Definitely Do Together While You're Still Single
Your sis is your best friend and number one, since day one. You have been by each other's side forever, and life has surely been an adventure for the both of you. That's why there are some things sisters should do together while still single. It's a fun time when you're both adulting and able to truly explore life on your own terms. You're single and not focused on a significant other just yet — and that's totally OK. This is your time to shine and focus on your "me time." Take that sisterhood bond, and kick it into high gear.
Your sister is the one person you would do anything with. Other friends you may be hesitant to jump on board with their crazy shenanigans, but you trust your sister with your life. If she wants to do something, you're down — no questions asked. If she came to you with any of these seven ideas, your first response would be, "When? I'm clearing my entire schedule."
Even if you're feeling a bit blue that you both haven't been swooped up just yet, refocus your energy into doing all of the things on your bucket list you've been wanting to do. You're single, fierce, and two sisters who are ready to take on any adventure life throws your way. Party on!