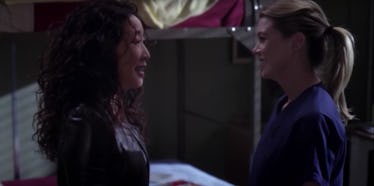 7 Things Meredith & Cristina Would Do On New Year's Eve If They Had No Plans
The question on many of our minds at this very moment is, "What the heck are my New Year's Eve plans?" This time of year, you really can't avoid it. Anytime someone asks you what you're doing, you bet you'll have the same response as your BFF. You wouldn't even think about celebrating the end of the year without your bestie by your side. She is the Cristina Yang to your Meredith Grey, aka, your person. If you're both unsure of what to do this year, there are things Meredith and Cristina from Grey's Anatomy would do on New Year's if they had no plans, that you can draw inspo from.
New Year's Eve is the last big bash of the year. It's supposed to be an exciting celebration, which is why a lot of people host parties and wear their favorite glittery outfits. Although, you don't need all of the extra glitter and bubbly to make your mark. All you really need is your best friend chilling next to you as the ball drops.
When you have your BFF, anything is possible, and these seven things Meredith and Cristina do on Grey's Anatomy are also things you and your bestie can do to ring in the New Year. Save the drama for Shondaland, because you and your bestie are set to embrace 2018 like the total girl bosses you are.