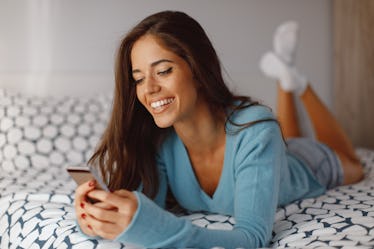 7 Signs You Can Spot From Texting That Hint Your Relationship Is Happy
Shutterstock
The way you text your SO reveals a lot about the state of your relationship. Texting is one of the primary ways couples communicate with each other, so it's no wonder that your texts contain little clues about how solid your connection is. The texting signals your relationship is happy can show that you're both on the same page about each other, and you can feel confident in your growing bond.
Deciphering texting signals isn't always easy. After all, unlike face-to-face conversations, you can't read into the tone of someone's voice in a text to understand how they feel. But according to linguist and researcher Michelle McSweeney, who studies the way people use technology to communicate in relationships, you can look out for a few subtle clues that might give you insight into how your relationship is progressing. I asked McSweeney to outline some of the signs that a relationship is healthy, thriving, and happier than ever. Is it important to text each other frequently? What about the topics you discuss over text versus IRL? And most importantly, how can you make your partner feel appreciated?
Luckily, you can look to your chat history to find out how well your relationship is doing. And if you want to change your communication patterns to increase your connection, you can totally do that too. Here's how McSweeney says you'll know you're in a happy partnership.