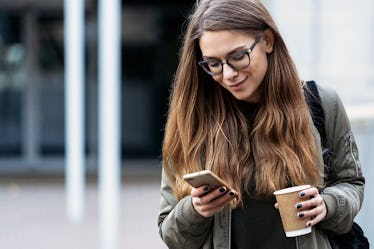 Are You Texting Your Partner Too Much? 4 Signs You Might Be, According To Experts
Having a steady partner can be awesome. You have someone to cuddle with when it gets cold outside, someone to order Seamless with, and someone to have great sex with on the reg. It's great, but it doesn't come without some boundaries. Just because you and your partner are happy and in love doesn't mean you have to constantly be in communication. Looking at these signs you're texting your partner too much, according to experts, might mean you should consider reigning it in a little.
The thing is, "you can text your partner too much," Dawn Maslar, author of Men Chase, Women Choose tells Elite Daily. "When a person falls in love, research has found that his or her serotonin drops to the level of someone with OCD (obsessive compulsive disorder). This [can] cause the person to feel obsessed. This may lead to over-texting."
As Maslar says, you can text your partner too much, but that doesn't mean you are. "Texting is a personal issue between two people," she explains. "If they both are happy with the level of interaction and it's not creating a problem in their lives, then feel free to text away!"
That being said, here are some signs that you're texting your partner too much, straight from the experts themselves.