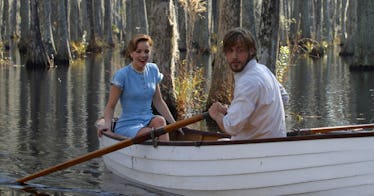 7 Summer Date Ideas Inspired By Classic Movies, Because Summer Lovin's A Blast
New Line Cinema
Spoiler alert, guys: Dating in 2018 doesn't always play out like the rom-com we'd all like it to be. I, for one, have never once journeyed through swan-covered waters with a gentleman in a rowboat, as Rachel McAdams' character does in The Notebook. Instead, most of my date nights have consisted of dive bar meet-ups and Netflix and chilling. Ah, modern romance. If you've found yourself a sweet fling this season, though, why not take matters into your own hands and suggest a few of these summer date ideas inspired by movies?
My dream in life is to find a boy who's willing to fly to Rome and recreate every single scene from The Lizzie McGuire Movie with me — from wishes made in the Trevi Fountain to technicolor pop performances at the Colosseum. But, that may not be what your dreams are made of (plus, like, Rome is kind of far).
No matter your geographic location or cinematic fantasy, I have no doubt that at least one of these movie-inspired summery dates will resonate with you. Paintballing, jet skis, steamy pool makeout sessions — honestly, what's not to love?
Here are seven ways to bring a little bit of movie magic to your date nights this summer.