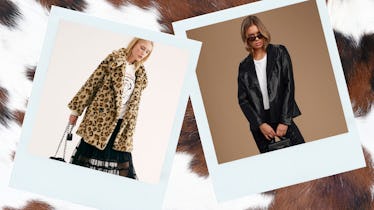 These Fall Coats Will Take Your Travel Instas To The Next Level
Free People, Lulus/Elite Daily
With fall and sweater weather in full swing, you're probably planning all of the opportunities for you to slay your Instagram #OOTD game. Fall fashion is my favorite of the whole year, because you have the opportunity to creatively layer up your clothes and take your outfits to the next level, thanks to stylish travel jackets like the ones on this list.
Because I really hate checking a bag, when I travel in the fall and winter, I usually just carry one coat with me for the whole trip. So when I'm picking out my next fabulous jacket purchase, I need it to be something super versatile that I can wear with a variety of outfits, but will still make an impact each time I pose with it on my Instagram feed. I've always gravitated toward styles like the ones listed below to keep my feed looking gorgeous — and also to keep my Florida-bred body warm enough to power through the colder weather.
Whether you're a diehard teddy coat supporter or turn to your trusty peacoat every time the temperature drops below 60, here are some of my personal favorite coats I think you should have for your fall travels and beyond.