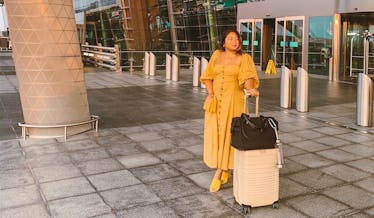 Why #TeamCarryOn Will Make You Never Want To Check A Bag Again
I'm on a plane close to every week, and one thing I've learned through my travels is that #TeamCarryOn is the way to go. Over time, I've discovered the benefits of a carry-on, and I don't think I'll ever travel any other way. I love that only packing a carry-on gives me so much flexibility when I travel, and I feel like I'm able to be more mobile while I'm on the road.
Don't get me wrong — traveling with just a carry-on can be challenging at times. Organizing all of my clothes to fit can be difficult, and pushing my suitcase into the overhead bin can be quite the task. But despite those minor hurdles, nothing compares to having the freedom of only bringing a carry-on while I travel. I never have to wait at baggage claim, I don't have to worry about paying any extra fees when I arrive at the airport, and I'm generally a faster traveler because of it.
Now that I've gotten in the habit of just traveling with a carry-on, I know I will never be able to hit the road any other way. Here are nine reasons why you should consider the #TeamCarryOn life too.