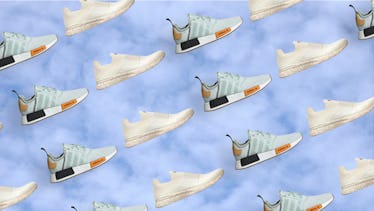 These Sneakers Are Functional & Cool For The Avid Traveler
Adidas, APL/Elite Daily
Whether I'm breezing my way through an airport, exploring a new city, or going on a hike, I always travel with sneakers. They're a no-brainer for me because they often serve more than one purpose. They're good for any athletic activity while I'm away, they're perfect shoes for the airport, and of course, if they're from this list, they're stylish enough to complete every travel pic I post on the 'Gram. These are what I think are the best travel sneakers for the jet-setter who's always on the go.
I used to be Team Anti-Sneakers. I thought no amount of comfort would ever make me actually want to wear them. But now that I regularly travel all over the world — I'm on a plane no less than once every two weeks — comfort far outweighs style for me now. Luckily, the sneakers on this list check both the comfort and style boxes, and I never have to sacrifice one for the other.
These sneakers have different qualities about them that I like, whether they're waterproof, slip-on, trainers, or funky-fashionable, so there's a good argument to add all of them to your closet. If you're looking for shoes you can bring with you across the globe, make sure you take a look at this list.