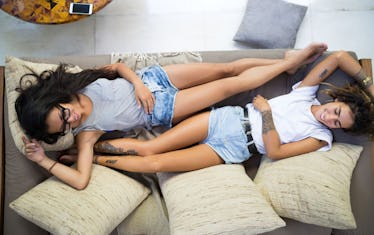 7 Emotional Struggles Of Living With A Messy Roommate Who's Also Your Bestie
When your messy roommate also happens to be your bestie, you feel smack-dab in the middle of unorganized chaos all of the time. You love that girl tremendously, but when it comes to the neat and orderly department, she's not racking up any gold stars. You know the struggles of having a messy roommate all too well, because you always dread having to have a real sit down discussion about it, but it always ends up turning into a girl talk and Wine Wednesday sesh instead.
You don't want to overcrowd her with your nagging (though her mountain-high pile of laundry is doing most of the crowding), but you also want to be comfortable in your space. Let's just say you and your BFF are the epitome of opposites attracting, because for every tidy quality you have, there's a dirty dish in the sink to counteract it.
Don't get me wrong — these not-so-organized qualities of hers don't negate her friendship. She is your ride or die, and she's there to weather any storm with you. Granted, she did effortlessly sleep through the tornado that seemingly went through her room. How on earth does she find anything in there? If your bestie stores her secrets with you, but throws everything else underneath her bed and around her room, then you've got messy roommate struggles, and know these seven things to be true.