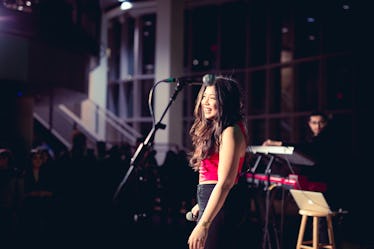 7 Struggles Music Students Can Relate To, Because You Can't Stop Overanalyzing Every Song On The Radio
I was one of the many people who decided to major in music in college. In fact, I went to a school that was exclusively dedicated to studying all aspects of the music industry, and I barely took any real liberal arts courses. Though I majored in music business, it didn't stop me from experiencing all of the ups and downs of being in music school, so I can totally relate to the benefits and struggles of being a music major.
From giving up weekends spent out with my friends so I could camp out in a practice room to finish a song, to literally staying silent so I could rest my voice (which is ridiculously difficult for my outgoing self), going to music school definitely wasn't always the easiest. But even though I look back and poke fun at some of the #struggles I faced when I was in school, I know that I wouldn't change it for the world.
Going to music school was one of the best decisions I've ever made, and I think it's the reason why everything in my adult life has panned out the way it has. And if you're a music major yourself, you can likely relate to these seven things.