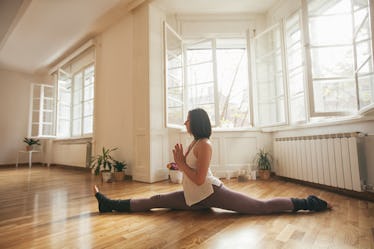 Start Doing These 7 Stretches Now, & Pretty Soon, You'll Be Able To Do All The Splits
Ah, the splits — the ultimate test of flexibility. They're impressive AF, and you've always wanted to low-key whip one out in the middle of a dance floor at a party. (or is that just me?). TBH, even if it feels like you'll never be able to conquer those tricky bad boys, incorporating a few simple stretches for doing the splits into your daily routine can help you get there one day. You just need to be a little patient, and yes, you have to commit to doing these moves on a regular basis if you really want to see some progress.
Honestly, some people are just #blessed and don't have to work as hard to be able to bust out a split. But if you're not genetically predisposed to have a bendy bod, it doesn't mean that you'll never be able to do them. Patience, young grasshoppers.
Splits seem like they require flexible hamstrings, and that's it, but they actually call for very open hips, groin muscles, and quads, as well. Plus, depending on the kind of split you want to achieve (side split or middle split), you'll have to incorporate different stretches — dedication, amirite?
Remember not to rush the process. With a bit of patience and consistency, the splits will soon be yours. But, if you push or force anything, it may lead to injury and frustrating setbacks.
So, if you're absolutely craving the splits but don't know where to start, here are seven stretches that will have you on your way to achieving all of your flexibility dreams.