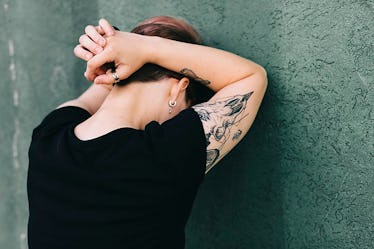 7 Red Flags That May Mean You're Under More Stress Than You Realize
Stress is a freaking bummer. We all know what it feels like, and we're all on the same page about how sh*tty it feels. But when that tension begins to hurt your relationships and affect your well-being, it might mean there are some stress red flags that you just can't ignore anymore.
When you think about the world we live in, where you can always be reached by phone, and you're expected to answer emails from underneath your bed covers, it's no wonder why our national stress level is the highest it's been in 10 years, according to a recent poll by the American Psychological Association.
Stress happens; you can't avoid it entirely. But the hardest part about this is that it can often feel totally out of your control. When you have four different deadlines approaching at work, or your in-laws just sent you a link to the apartment right next to yours and said they're thinking about making a deposit, it can feel like your happiness and sanity are far beyond reach.
Although you can't necessarily stop your life from being stressful, you can certainly be more vigilant about recognizing your stress red flags. If you're more aware and in tune with your stress levels, it's easier to know when you need to stop everything, take a breath, and do whatever relaxes you. Whether it's a massage, a long run, or a day with your phone turned off, your mental health is just as important as your physical health. Here are seven red flags that mean you're too stressed out, and you need to slow it down a little.