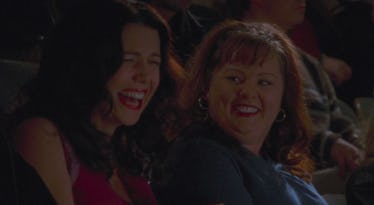 7 Reasons Why We All Need A BFF Like Sookie St. James From 'Gilmore Girls'
When we talk about Gilmore Girls, we usually reminisce about our main ladies, Rory and Lorelai, but we can't forget about the iconic Sookie St. James. She truly was the best friend we all wished we had, and will forever hold a special place in our hearts. The cheery and oftentimes clumsy BFF of Lorelai Gilmore was not only an amazing chef, but a great confidant for all of the Gilmore girls' adventures. Maybe you are lucky enough to have a bestie just like her, but these Sookie St. James Gilmore Girls moments had us all wishing she was in our girl crew.
We all love Melissa McCarthy, so it just makes sense that her Stars Hollow character is just as charming and wonderful. Sookie had us all laughing, and she was always there for Lorelai's constant drama in the best way possible. Now, if only we could find a way to climb into our TV sets so we could eat all of that delicious food she made.
We missed her a lot in the sequel series Gilmore Girls: A Year In The Life, but thank goodness she did make a brief appearance. Luckily, we have the entire series to stream over and over again on Netflix, so we can hang with our dream bestie. She truly is great, especially in these seven moments that showed us all the true potential of what a best friend can be.