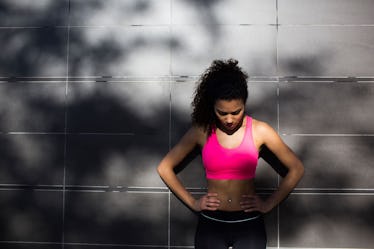 7 Signs Your Workout Is Too Intense, So You Know Your Limits
Every fitness journey is as unique as the individuals embarking on them. But I like to think that you and I (and anyone else who's breaking a sweat on the reg) share a common goal: to better our bodies — not to work them into the ground. Eventually, however, the thrill of being able to lift heavy, heavier, and heavier still, or sprinting on a treadmill to make it to three miles in under 15 minutes is going to make you feel invincible. This is all well and good, but be on the lookout for the signs your workout is too intense, because if you're anything like me, that invincibility will motivate you to start pushing your body to new limits. Ergo, you have to keep in mind that while breaking a sweat and surpassing your personal best can be so satisfying, injury and fatigue are anything but.
When it comes to anything physical, it's important to know your limits. It's also crucial to know when to test them, and when to backtrack a little bit (or, you know, a lot a bit). Granted, this is sometimes easier said than done, because let's face it: When you're on a roll, you want to keep that ball rolling.
Sleep science and wearable tech expert Will Ahmed, the CEO and founder of leading human performance company, WHOOP, puts it this way: Overtraining runs your body down, and while it's OK to go hard for a day or two, continuously overtraining puts your body at risk for injury.
"I wouldn't worry too much about doing one intense workout, and from a psychological standpoint, I think it's good for you to be able to overcome periods where your body feels like it wants to stop, but you can overcome it," Ahmed tells Elite Daily. Pushing your body to extremes on a daily basis, however, isn't such a great idea.
So how can you tell the difference between a workout that challenges you, and a workout that pushes you too hard? Here are some of the most obvious signs, according to experts.