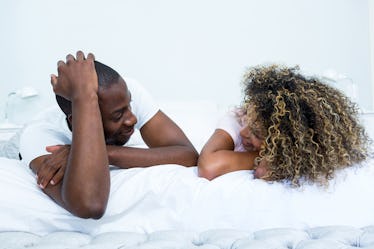 If Your SO Exhibits These 7 Sex Behaviors, They May Be Selfish In Bed
SHUTTERSTOCK/wavebreakmedia COMP
Sometimes, you need to put yourself first. Whether you skip the party to catch up on self-care or advocate for a promotion at work, prioritizing your own well-being should always top of your to-do list. Of course, when it comes to the sexy stuff, there's a fine line between maximizing your own pleasure and totally ignoring your partner's needs. And knowing some sex behaviors that mean they're selfish in bed may just help you find your sexy balance.
"Being selfish in bed means only thinking about your needs, your pleasure and your boundaries," Dee Stacey, certified sexual health educator for Blume, a self-care and period product company, tells Elite Daily.
According to Stacey, if your partner seems a little selfish between the sheets, it may be worthwhile to observe their behavior in the streets. "I would think twice about spending your time and energy with someone who isn't ever going to reciprocate, leaving us likely feeling unfulfilled, tired, or annoyed," Stacey says. "Reciprocity is important in many ways, but especially when it comes to sex!" Remember: Your pleasure is always a priority.
If your partner seems a little too focused on themselves in the bedroom, here are seven behaviors to look out for.