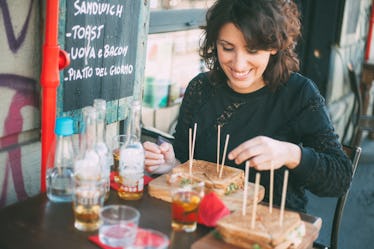 7 Soon-To-Be Famous Restaurants Opening This Summer You'll See On Everyone's IG
Attention, recently-graduated undergrads: School's out forever, which means those long, boozy nights hanging out on College Avenue are over, and your exploration of adult nightlife has only just begun. Now, if I may, dollar beers and cheap cocktails are a delicacy in and of themselves, but there's so much more to socializing than loud music, high heels, and sticky floors. The best restaurants opening in summer of 2018 are calling your name, and that means you'll get to sip all the fancy new cocktails, have your pick from the most mouth-watering menus, and enjoy era-inspired decor like you wouldn't believe. I really hope you're as excited about eatery openings as I am because, rest assured, your foodie bucket list is about to grow exponentially, starting with warm weather season openings you, and your social feed, really can't miss out on.
Trust me, I once thought the strip of bars 10 minutes from campus was the epitome of nightlife, too — and it is, when you're college-bound with a social budget hovering in the teens (if that). As soon as you graduate, though, and kind of grow out of that wild, party life, your eyes open to this other realm of nighttime engagement that's bursting with culture and beyond-delicious food (yes, there are better things in life than a bacon, egg, and cheese sandwich at 1 a.m., I swear).
Of course, when you're new on the scene, it's not always easy to spot the coolest places, or get the most bang for your buck (spoiler: Life's about to get a tad bit pricier). To ease you into the nightlife of adulthood, here are a few restaurant openings you need to be aware of come summer 2018.