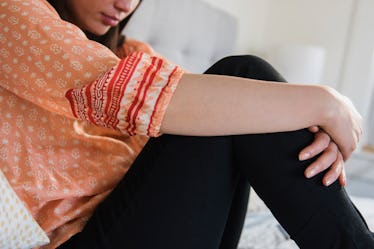 If You Notice These 7 Red Flags In Your Discharge, It's Time To See Your Gyno
Anyone with a uterus can tell you there's a lot of stuff that comes out of a woman's vagina, and isn't it a wonder to think most of it is just something that happens down there, with not much rhyme or reason? For once, I'm not referring to your period. Instead, I'm talking about vaginal discharge — you know, that kind of translucent, kind of white stuff you occasionally come across on your underwear? According to cycle tracking app Clue, vaginal fluid is not only normal, it's also subject to change. Still, there are red flags in your discharge to be aware of because, despite the fact that discharge when you're turned on isn't the same as discharge during pregnancy, and that's all fine, there are some discharges that are different in a bad way, too.
See, discharge gets its grotesque connotation from those unfortunate occasions when what's coming out of your body is actually a really weird color, or looks kind of clumpy, or smells rank AF. Things like sexually transmitted diseases or infection, an overgrowth of bacteria, and even birth control can all lead to some interesting fluid development.
It's really important to pay attention to any and all details having to do with what goes into your vagina, such as labels on feminine products, or using the right protection during intercourse. It's also vital that you get to know your body and all its quirks, including the TMI stuff like the normal color, smell, and changes in discharge throughout the month. That way, if any of the following signs sound familiar, then you'll know for sure it's a red flag you shouldn't ignore.