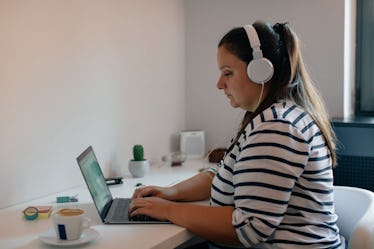 Experts Say You Should Ask Your Doctor These 7 Questions About Sleep During A Checkup
Talking to people whom you believe are in positions of authority can be intimidating. Whether it's a mentor at school or even the optometrist, I'm personally trying to become more confident about asking questions of these professionals. For instance, experts say there are certain questions you should ask your doctor about sleep — even if you don't think you have a serious issue when it comes to your shut-eye — so if you're as hesitant as I am about speaking up in these types of situations, don't worry. I got you, girl.
Not only can talking about sleep be part of your checkup with your primary care doctor, it's actually crucial that you talk about the subject with your physician, says Terry Cralle, MS, RN, CPHQ, a registered nurse, certified clinical sleep educator, and Better Sleep Council spokesperson. "Because it is the foundation of health and wellness and critical to our physical and mental health, [sleep] should be addressed at every health care provider encounter," she tells Elite Daily in an email.
The responsibility is yours to bring up this topic during your checkup, Cralle adds. "If your health care provider does not bring it up, then you bring it up," she explains. "Too many people either don't address it or think it's irrelevant to their chief complaint."
Plus, you're not the only one who stands to gain something from a candid sleep conversation with your doctor. "Because we know so little about sleep, and because it's so complex and personal," says Dr. Benjamin Smarr, a National Institutes of Health postdoctoral fellow at UC Berkeley and Reverie sleep advisory board member, "a generation of people who are data-literate and capable of structured sharing have the opportunity to contribute enormously to our shared sleep knowledge."
Bottom line: Don't be afraid to share any sleep issues you've been experiencing, or to ask any of the following questions once you sit down in your doctor's office.