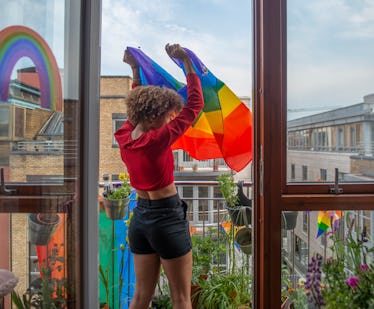 Here's What The Pandemic Taught 7 Queer People About Pride
David Levingstone/DigitalVision/Getty Images
Coping with the coronavirus pandemic has been challenging for everyone, but the outbreak coinciding with LGBTQ+ Pride season has hit queer folks extra hard. As a queer person, all hopes of campy, delicious drag brunches with your crew or pressing up against barricades to watch glittery floats go by were dashed. Instead, Pride 2020 events went virtual. Once more, social media became an LGBTQ+ refuge, and the pandemic taught queer people to celebrate Pride in fresh and enlightening ways.
"Pride celebrates resistance to the oppression of heteronormativity and cis-normativity," Courtney Watson, a licensed therapist whose practice focuses on queer and trans people of color, previously told Elite Daily. "At its best, it's a safe place to be celebrated as an individual, for an aspect of one's identity that can experience profound oppression and trauma." Even though marches and other large, festive gatherings weren't an option this year, the following LGBTQ+ folks still found ways to celebrate Pride in its truest sense: by congratulating themselves for their continual resistance to cisgender and heterosexual norms, working on healing from past traumas, and championing their own queer expression.
Here's what the pandemic taught seven queer women and non-binary people about Pride.