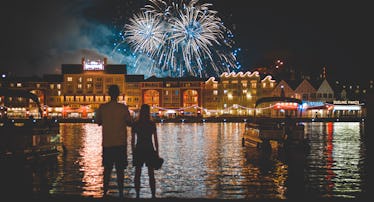 7 Photos Of New Year's Eve Across The Globe That Are Beyond Enchanting
Unity is one quality of New Year's that everyone seems to overlook. I, on the other hand, love the idea that the entire world — at different times, of course — rings in a new year together. That's why pictures of New Year's Eve around the world are so fascinating, because we all have our own rituals and traditions.
If you've already had the pleasure of going to another country to celebrate the new year, you probably already know that there's a lot more to experience than the ball dropping in NYC. Just like the new year represents something different to us as individuals, countries are the same way. It may be the same year we are welcoming into our hearts, but across the globe, the sparks are flying differently.
Hopefully, we can all pack our passports someday and bring in a fresh start in a completely different country. It's always good to be submerged in a different culture or outlook other than your own, at some point in your life. And just like the new year is a universal thing, so is beauty, and if you thought there was only one way to embrace the coined fresh start, you couldn't be any more wrong.