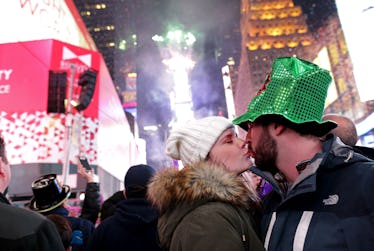 Tips You Need To Know To Book Cheap Flights For A New Year's Getaway
Yana Paskova/Getty Images News/Getty Images
Thanksgiving is behind us, which means we're all looking ahead to the December festivities. If you're planning to skip town for the end of the year, these cheap New Years Eve flight tips can help you book wisely. Whether you're making your plans today or waiting for a couple weeks out, here's what you need to know to save dough around the holiday.
Unfortunately, Skyscanner reports that the best time to buy your NYE airfare is 11 weeks out, or the week just before Halloween. So, whoops, missed that one. Shy of that, though, there are other tricks you can take advantage of to help you score a better deal. These are general tips for avoiding top-dollar prices when booking your flights.
First things first, set up a price alert. You can use the Hopper app or another price alert system from airfare comparison sites to be sure you're not missing good deals when they come by.
Next, think outside the box. You can probably score much cheaper fares if you're searching for less-popular destinations. According to Skyscanner, the top 10 U.S. cities people search for to ring in the new year are Dallas, San Francisco, Chicago, Orlando, Denver, New Orleans, Los Angeles, Miami, Las Vegas, and New York City. So if you've got one of these places on your NYE bucket list, now's the time to jump on fares.
If you're going against the flow of traffic, you're probably going to save money on your tickets. Going the road less traveled for this particular holiday is also great if you want to avoid big crowds and long lines. Kayak recommends Edinburgh, Lisbon, Vienna, Amsterdam, Berlin, and Prague, among other destinations.
Follow the same approach with your airport bookings. Look at the "B-list" airports in major cities rather than the main one. For example, flying into LaGuardia instead of JFK in New York City, or Oakland versus San Francisco, could end up saving you some serious dollars.
It's worth looking at lodging, too, if you're looking to save some dough around the holidays. There's nothing worse than getting a sweet deal on airfare and discovering that all housing within 50 miles is booked up. Check all prices and availability before you book!
In general, looking at a whole month at a time can help you save money by taking advantage of the low-fare calendar. Obviously, in this case you'll be searching just for one weekend, so you're more limited in which days you can fly. But, be sure to look at nearby dates (many comparison sites feature a plus-or-minus or flexible fare option) to see if you can save money by taking an earlier or later flight.
According to PriceofTravel.com, last-minute deals are something of a fantasy when it comes to sunshine destinations. Don't hold out for the week before hoping for a dream-come-true vaca.
Specific to this holiday, CheapOAir and OneTravel both have flight deals happening for New Years. San Francisco to Vegas was listed for $209, and Atlanta to Cancun was going for $350. Google Flights showed flights from New York City to Miami for just $372, and for just $600 more that'd get you from the Big Apple to Paris roundtrip. (What?!?)
Also check out Kayak's Cyber Monday deal for some sweet savings on flights to numerous destinations and with multiple carries. It also has a guide to booking flights if you're shopping on Cyber Monday — some destinations are actually more expensive on the online shopping holiday. Be savvy and read up before you overpay on plane tickets.
For those of you ready to make plans and spend the New Year in a faraway land, may the cheap-fares force be with you. Happy booking!