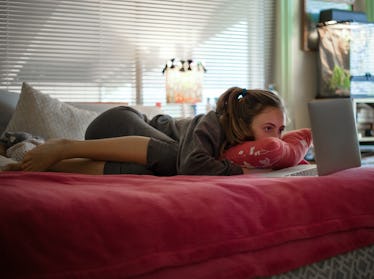 7 Movies To Watch When You're Sad About Feeling Single & Need To Boost Your Mood
Three Valentine's Days ago, I decided it would be chill if I embodied all single-white-female-on-V-Day stereotypes. I convinced myself that the person I was dating had lied to me about being out of town, I pouted on my bed because all of my friends were on dates, I recklessly went to a comedy show with an ex on V-Day itself, and then I came home, fired up Obvious Child, and cried. Jenny Slate was the only thing that made me feel better. There are movies to watch when you're sad about being single, and you should take advantage of them.
I had a different and more substantial dark time at the beginning of last year. When a particularly depressing day would hit, I would take myself to the movies to escape it all. The dark room, relatively large amount of decent movies during awards season, and ability to forget everything outside of those four walls for a few hours became my second therapy. (Except for the time after a therapy session when I took myself to Manchester By The Sea. That didn't exactly help lighten the mood.)
Remember, being in a relationship does not make anyone more important or special than you are. Go get yourself some Haribo sour bears and dill pickle-flavored potato chips (don't @ me) and snuggle up with one of these movies that are sure to make you feel better.
1. Obvious Child
Just so we're clear: if you haven't seen this movie, you must. At its start, Jenny Slate's character is broken up with in the worst way, so your misery will have plenty of company. Without spoiling the film, I can tell you that her circumstances change, and her earnest performance will leave you in a better place. All reasons to watch this right now.
2. Legally Blonde
Elle Woods is the perfect reminder that everyone gets dumped, no matter how blonde their hair is or how innovative (?) their Harvard video essay may be. This story's arc bends toward justice and will leave you in a more optimistic place, ready to bend and snap back to your best self.
3. The 40 Year Old Virgin
I am a sucker for this movie because I think Steve Carrell is brilliant in it, and Catherine Keener is my favorite. Yes, this old movie from the Hollyweed bros feels dated at points, but watching Carrell go from zero to hero is sure to bring a smile to your face.
4. Forgetting Sarah Marshall
Jason Segel's screenplay and performance make this movie one of my favorite rom-coms of all time. Like all of the movies on this list, Segel's sorry state at the beginning of the story will make you feel less alone in your loneliness, but you'll be in the good kind of tears by the time the puppet show at the end of the movie rolls around.
5. The Last Days Of Disco
This is a random pick, but trust me. If you're looking to distract yourself, watching a movie you've never heard of that was made in the late '90s, but based on Manhattan nightlife in the early '80s featuring Kate Beckinsale and Chloë Sevigny is always a good move. Plus, the New York scenery is too aspirational to leave you feeling sad for long.
6. Sixteen Candles
Sixteen Candles is a throwback to simpler, but equally complicated times when heartbreak was a new but real experience, loneliness seemed never-ending, and happy endings were still possible. Somehow, a nostalgic throwback to high school feels like a great way to remind yourself that no matter what, it gets better.
7. Under The Tuscan Sun
If you don't feel like throwing back to high school, you can pay it forward to Diane Lane's performance in the somewhat despised film adaptation of Frances Mayes' memoir. It's about saying eff it, starting over, and maybe even trying to fall in love again. Oh, and there's also pasta, which is always fun.
Movies are quite possibility the best antidote to loneliness, especially when friends aren't around, so pick one (or all) of these and let me know which one's your favorite.