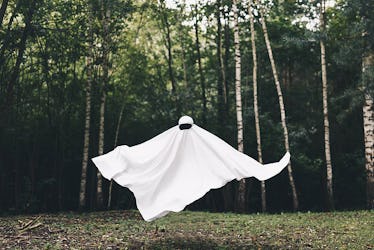 7 Most Haunted Colleges In The U.S. That'll Make You Reconsider Dorm Life
Believe it or not, I very briefly lived in a 19th-century-manor-turned-dorm-room at Bard College that was said to be haunted. It was beautiful, but also creepy AF — the kind of place that was a little too dark, and could have easily served as the set of a horror movie. While I never actually saw a ghost, I often got goosebumps walking along the hallways at night, and wouldn't have been remotely surprised to come upon a see through child in Victorian era clothes. But Bard College isn't even ranked among the most haunted colleges in the U.S., of which there are plenty, my friends.
Now, it's true that haunted histories are almost entirely based on testimonial. But heck, as neurologist Richard Cytowic, M.D. wrote in a September 2018 article for Psychology Today, "just because something is psychological doesn't mean it isn't real to the person who sees it." And given how common ghost sightings are, who's to say, you know?
If you're a believer in the everyday appearances of the after-life, get ready to get down with the ghosts that might just be floating around your campus. Here are seven of the most haunted colleges in the United States.