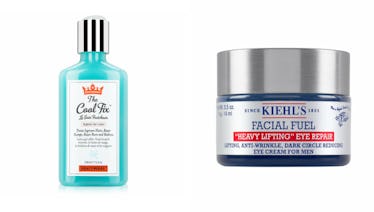 7 Guy's Grooming Products You'll Want To Steal From Your BF
Shaveworks/Kiehl's
On one of our first dates, my husband wrapped me in his sweater to keep me warm on a chilly night at the beach. 'Till this day, it lives on my side of the closet. My thievery doesn't stop there, either. His men's grooming products have also made their way to my side of the sink. Sorry, not sorry.
Though I have my own arsenal of beauty products, there are a handful of his items that I can't seem to stop using. My legs have never been smoother and my hair has never looked better and there's nothing about that I should feel the need to apologize for. The way I see it, we're both benefitting from it, right?
You've heard the saying, "you can't judge a book by its cover" and the same can be said about the products in your man's stash. Don't be fooled by the dark-colored, masculine packaging and macho product names (though, I can't help but be a sucker for pink bottles and glittery labels), the formulas inside aren't just meant for manly men. However, if they can take on serious beard stubble and super dry hands, just imagine what they can do for you.
Men's Razor
Gillette Fusion5 Razor, $10, Amazon
Now that I think about it, I can't remember the last time I used a women's razor. These are built for serious stubble, so they always give my legs the closet shave. My shower currently has two Gillette Fusion5 Men's Razors in it — one for me and one for him. When it comes to stealing your boyfriend's razor, it's OK when you're in a pinch, but if you love it enough, grab one for yourself the next time you pick up the essentials for sanitary reasons.
Shaving Cream
Barbasol Beard Buster Soothing Aloe Shaving Cream, $1, Target
Speaking of super smooth legs, I'm also guilty of stealing Jerry's (that's my husband's name) shaving cream. He has always been a fan of the classic staple Barbasol Beard Buster Soothing Aloe Shaving Cream and it's super affordable, so I don't feel too bad using it all up. The soothing aloe scent has less of a cologne smell, which makes it feel a bit more approachable. But trust me, you'll be so impressed with your super smooth legs, you won't even notice the smell.
Aftershave
Shaveworks The Cool Fix, $26, Amazon
Clearly I take hair removal on my legs very seriously, but I have one more product I've become completely addicted to. Shaveworks The Cool Fix works wonders for preventing ingrown hair, razor bumps and burns, and irritation. If you've gone through all the trouble to shave your legs, you might as well add one more step to keep them soft.
Deodorant
Old Spice Classic Deodorant, $2, Amazon
I admit it, I sweat...a lot. Whether I'm running errands, at work or getting my heart rate up at the gym, I want to smell good. Who doesn't? My husband swore by this antiperspirant for years, so I figured if it worked for him, it would work for me. I was right! I can go about my day without having to worry about sweating and the best part is it's invisible and lightweight so I don't have to worry about it rubbing off on my favorite little black dress for a night out.
Eye Cream
Facial Fuel Heavy Lifting Eye Repair, $30, Kiehl's
Jerry starts work really early in the morning so he doesn't always get a ton of sleep. However, I've never seen him with dark circles or bags under his eyes, so naturally I borrowed his eye cream. I loved it so much that I bought my own. I think he thinks the name is cool, but I love how this balm-like cream keeps my under-eye area hydrated, even when I wear a lot of makeup. Kiehl's Since 1851 Facial Fuel Heavy Lifting Eye Repair is so good, I have no problem looking past the masculine packaging.
Lip Balm
Rebels Refinery Capital Vice Skull Lip Balm, $10, Target
These skull-shaped lip balms might look ominous, but the most frightening thing about them is how soft they leave your lips. Packed with coconut oil, sweet almond oil, beeswax, canola oil, soybean oil, rosemary leaf extract, honey, and vitamin E, one swipe and your lips will be left completely kissable. If this black Rebels Refinery Capital Vices Skull Lip Balm doesn't quite fit your aesthetic, it also comes in a hot pink hue to match everything in your purse. And with a pack of 3 skull lip balms for $10, you'll never have to share again!
Pomade
Baxter of California Cream Light Hold/Natural Finish Pomade, $23, Amazon
Whether you're after supermodel texture or just trying to keep your baby hairs in place, rumage through your man's stash for a pomade (I guarantee he has one in there somwhere). Jerry uses Baxter of California Cream Light Hold/Natural Finish Pomade and it has been a godsend for my hair. If you get tons of flyaways like I do, dip a toothbrush (not your actual one of course) in a pomade and and gently brush them in place. I promise they'll stay there all day. For back-from-the-beach waves, scrunch a pomade into damh hair and focus on the ends.
Cologne
Gucci Guilty Cologne, $72, Macy's | Dolce & Gabbana Light Blue Pour Homme, $86, Sephora
I once heard that men are more attracted to the smell of a cologne than perfume. It probably just comes down to their personal preference when selecting their own scent. If you've thought about swapping your go-to perfume for a men's cologne, I say do it! Fragrance is so personal, there are no rules when it comes to selecting one. Actually, my mom has worn Gucci Guilty Cologne for years and totally owns it.
I love this one because it has an androgynous feel to it — it doesn't smell like perfume, but it also doesn't smell super masculine. I love when Jerry wears Dolce & Gabbana Light Blue Pour Homme, but I don't think he realizes that I wear it, too (like mother, like daughter).