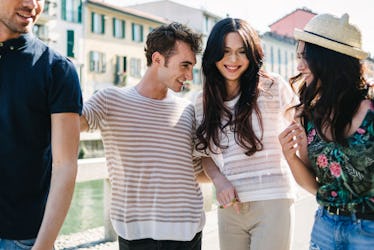 7 Mantras To Make You Feel Cool & Calm Before Meeting Your Partner's Friends
Let's say you're dating someone new and things are going great. Before long, you've reached the point in your relationship where your partner turns to you and says, "Hey, want to meet my friends?" Of course you do! But also, SOS. Meeting your partner's friends means opening yourself up to scrutiny from people outside the relationship who don't know you very well yet. And we all know that first impressions are super important. To help you approach the situation with confidence, recite these mantras for meeting your new significant other's friends. You'll feel ready to wow them all with your charm and confidence.
Before you stress out too much, remember that your partner might also be nervous for you to meet his or her friends! It's a chance for you to see your SO interact with other people, which can reveal a whole new facet of their personality. But if you're both excited and open to this step, it can be super fun for everyone involved. Look at it as a chance to make some new friends! And obviously, if your partner cares about you, they're going to want you to make a great first impression as well. So, put on your favorite outfit, do a little hair flip, and remind yourself of how freaking awesome you are.