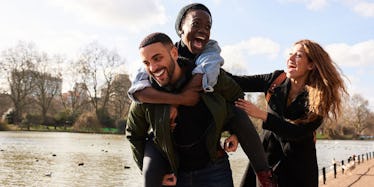 5 Signs Your Partner's Friends Think You're Amazing & Completely #RelationshipGoals
It's natural to want your partner's friends to be a fan of you. It'll just make life so much easier for the two of you if you all get along (which is honestly the bare minimum), and even better if they actually enjoy seeing you. There are a few signs your boyfriend or girlfriend's friends like you which will only help your relationship.
I've been with someone in the past where I didn't necessarily love all of his closest friends and they weren't the warmest to me, either. It made things awkward in group situations — they'd default to talking about things they had in common, which unfortunately would usually exclude me from the conversation. After that relationship ended, I knew I'd much prefer to find someone whose friends I not only got along with, but actually befriended. From that relationship, I actually became friends with one of his friends that I am still close with to this day — and I am so glad I have her in my life. We bonded over our mutual love for One Direction immediately, and she and I even saw Harry Styles in concert this past September. Sometimes, and I am evidence of this, being friends with your partner's friends can even outlive that relationship. But more on that later. Here are some signs your partner's friends actually dig you as a person, too.