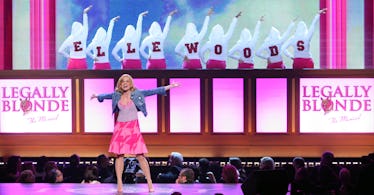 7 Lyrics From The 'Legally Blonde' Musical That Sum Up Your 'Legally Blonde 3' Excitement
Andrew H. Walker/Getty Images Entertainment/Getty Images
Look back at any hit movie from the early 2000s and you'll probably find that a musical adaptation of the film eventually made its way to the Broadway stage. Legally Blonde was no exception, as its stage musical opened on Broadway in 2007 and scored seven Tony nominations that year. The show ran until 2008, but for theatre fans and Legally Blonde lovers alike, its boppy lyrics and empowering message lived on and created quite the legacy. What with Elle Woods' story soon continuing in another Legally Blonde sequel, what better way to celebrate than with these lyrics from the Legally Blonde musical that totally sum up your excitement about Legally Blonde 3?
If you missed the show's run in New York or in touring venues across the country, full, totally legal videos of the original production are currently on YouTube (thanks, MTV!). The musical even made its way to London's West End and several other countries, so there's always a good chance of finding a new production elsewhere in the world. Another hidden gem that's online is the majority of the 2008 MTV series The Search for Elle Woods, which documented the quest to find a replacement for the first Broadway actress who played Elle. I just had my own binge of the show and lived for its old-school reality competition format, so 10/10 would recommend.
If you can't commit to watching either of these right now, that's what the insanely catchy Legally Blonde cast recording is for. Reese Witherspoon might not burst into song at any point in Legally Blonde 3, but if the idea is ever on the table, let's hope she turns to some of these lyrics for musical inspiration.