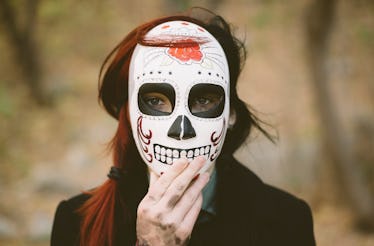 7 Clever, Low-Key Halloween Costume Ideas That Are Effortlessly Spooky & Cool AF
Not everyone has the time, energy, or even desire to spend months planning their Halloween costume with tons of DIY arts and crafts. Not to mention, after a long Tuesday at work (that's right guys, Halloween is on a Tuesday this year, God help us all), the last thing you might want to do is wiggle into a Yeti bodysuit, or layer on pounds of makeup and face paint. Sometimes low-key Halloween costumes are simply the better way to go about celebrating this spooky holiday.
I'll admit, for as much as I love Halloween, I have definitely taken the easy road plenty of times for the sake of ease and comfort. And when I did, I still accomplished a totally acceptable level of "dressed up" for a costume party. I don't think I've ever gotten as many compliments as the year I went as a blanket when I was fighting a cold. I got even more laughs and high-fives than the time that I had a very detailed mom-made poodle costume. Go figure, right?
But trust me when I say you can absolutely take it easy this Halloween while still sporting an awesome, clever, creepy, and totally low-key costume.
Here's a little inspiration to get your brain in Halloween mode.