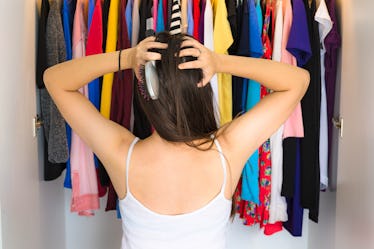 5 Halloween Costume Ideas For Anyone Who Kind Of Secretly Hates Halloween
Shutterstock
I can't say I understand why people would hate Halloween and wouldn't want to participate. It's a spooky and delicious holiday that has origins dating back to a time when people got dressed up and lit bonfires with the sole intention of warding off ghosts. Sure, the holiday has been somewhat secularized since then, and it's now mostly about gathering candy from your neighbors while dressed like Count Dracula, then gorging yourself on Snickers while you watch Texas Chainsaw Massacre. But listen up, costume- and fun-haters: There are some Halloween costume ideas if you hate Halloween that'll allow you to get in on the fun without having to go totally overboard — or even without having to put that much effort in at all, really.
And God knows you'll probably be invited to a party that pretty much requires you to wear some sort of costume, and you don't want to be that person who was "too cool" to get dressed up. Trust me when I say no one, and I mean no one, likes the person at the party who showed up still dressed in their work clothes.
Luckily, pretty much all of these costumes can be executed using things you very likely already own. Here are some ideas to get you started.