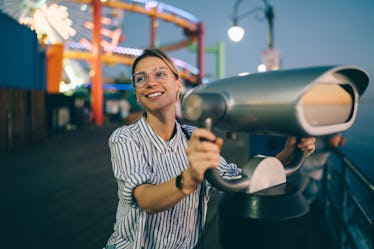 If You Live In LA & Have Zero Plans Friday Night, These Last-Minute Ideas Are Game-Changers
It's Friday night, and you're just realizing that you have absolutely nothing to do. You may have initially thought of opting for a night in, but now, you're full of energy and are game to go out. Or perhaps you and your bestie haven't had time for plans, and are finally both free. Now, you're just trying to figure out WTF to do tonight. That's when you need a few last-minute things to do in LA, and I'm here to help you out with that.
As someone who procrastinates her Friday nights literally every week, I'm the perfect planner for last-minute fun. While I normally opt for a night in streaming Netflix, there are times when I just want to dress up and go out. Actually, these seven activities are part of my go-to Friday night plans in Los Angeles. They're a fun mix for your entire squad, or make for cute date night ideas with bae. There's something on here for a foodie who wants to try something new, and someone who wants to snag quality content for the 'Gram. This is also a great list for someone who's visiting LA and is looking to explore like a local.
Whatever your situation may be, you don't have to fret at all when you see that blank calendar. Now, you have a ton of fun right in your back pocket.