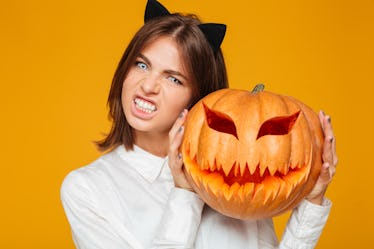 7 Last-Minute Halloween Costumes That Require No Money Or Effort Because You're Just That Lazy
Unlike holidays like, say, Easter or Thanksgiving, which fall on different dates each year, Halloween is and will always be on Oct. 31. Some years, you're totally prepared with the perfect outfit and makeup to boot, but there are those few lost years where All Hallows' Eve smacks you in the face like a hard deadline, and you have no candy to give out or costume to wear. No one's judging you for being forgetful or just downright lazy, by the way, but if you're in need of last-minute Halloween costumes that require no money or effort because you're either out of time or cash, there are options.
If we're being completely honest here, minimal effort and low-budget is the way to go whether you're lazy or not. Halloween has gotten a little out of hand, and I can't be the only one who's noticed. For starters, store-bought costumes are wildly overpriced. Why would someone ever consciously pay over $20 max for a cheaply made ensemble that realistically will not ever be worn again once All Hallows' Eve comes to an end?
Plus, Halloween is supposed to be fun, not a fashion show, and quite frankly, I prefer creativity on a dime to dramatic, intricate designs anyway. So own that lazy title, and do not get down on yourself for waiting until the very last possible second to throw something together. Trust me, we've all been there. Don't panic — get playful with these lazy Halloween costume suggestions that cost nothing and are effortlessly epic.