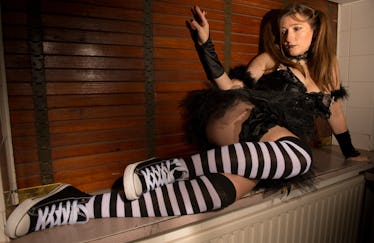 7 Last-Minute Costume Ideas With Tutus, If You're Feeling Glam & A Bit Extra
Time is running out, and Halloween is going to be here before you know it. If you live your life by the procrastination handbook, you're definitely scrambling for a quick and easy costume right about now. Last-minute costume ideas with tutus are your savior and give you enough wiggle room to be creative and accessorize.
We'll find any reason to wear a tutu, so why not on Halloween? They're fluffy, easy to put on, and you look absolutely adorable wearing one. Even if you didn't get to rock one as a child in your beginner's ballet class, let the big kid in you engage in some frilly fun now.
Wearing a tutu this Halloween will not only get you in the mood to move around, but you'll also be fulfilling some childhood nostalgia if you do. Actually, who says tutus are just for kids? Adults can wear them to more places, and quite frankly, we will wear the hell out of them. Don't wait too long though, because tutus go fast, and if everyone is as last-minute as you are, people are already hurriedly on their way to the store. Make your tutu game strong and head out to Halloween festivities with a simple but exciting outfit.