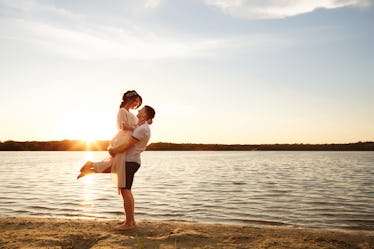 7 Hottest Honeymoon Destinations For 2018 That Are Worth Another "I Do"
Time flies by so quickly when you get engaged. First, you're watching the love of your life get down on one knee and ask for your hand in marriage, then you're walking down the aisle, and saying "I do." By the time it gets to the honeymoon, you're winded AF and want to cherish the moments as much as possible. Well, it's your turn to be at one of the hottest honeymoon destinations for 2018 and soak in all of those newlywed feels.
You and your hubby or wife deserve the best, and no matter how chaotic or stressful the wedding was, you're kissing that time goodbye and falling into one-on-one bliss at an amazing location. Of course, any honeymoon with the two of you would be so, so fun. Still, you certainly want to know what the best destinations are for your particular time frame.
These honeymoon locations slightly change by the year, because couples and venues are always discovering new and exciting ways to host honeymooners. Lucky for you, it's a tradition that will seemingly never die out. And since you two are going to be the ones reaping all of the benefits, you might as well see what various places have to offer you and your SO. If you're still peeping for honeymoon locations, 2018 has got you covered.